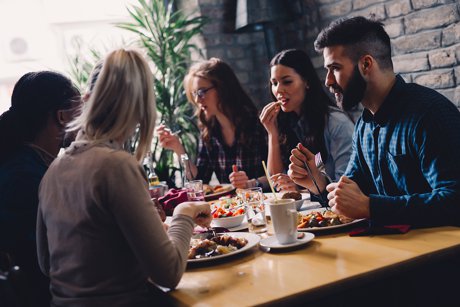 When hunger strikes Brandon real estate residents fight back. Favorite restaurants in town have what it takes to cure hearty appetites. A variety of eateries cater to all kinds of palates leaving diners satisfied yet hungry for more.
There's high energy at 212 The Boiling Point. Folks put the pedal to the medal to attend live streaming of Sprint Car Racing on Saturday evenings. Big screen televisions are expertly placed for diners to get all the best angles of the action. Cheers ring out for drivers in the winner's circles while sympathy is readily relayed for racers with bruised egos and dented cars. It's not just about the cars though. The 212 showcases all the big games from MLB to NFL. The menu is worth celebrating over too. Nightly food and drink specials create a following of regular customers.
Head on Over to Brandon Property for Dinner
Around the corner there's plenty of action happening at Tailgators Grill and Bar. Family owned and operated the food here is big on taste. The menu aims to please with lunch and dinner selections. Friends get things started with appetizers such as beer battered onion rings and spinach artichoke dip. Sandwiches, salads and small plate menu options are perfect for noontime meals. When the dinner bell rings many settle down for a juicy steak and baked potato. A mouthwatering children's menu pleases kids in the group as well.
Certain Brandon real estate restaurants add a little fire to the flavor. El Tapatio is a popular place to go to spice it up. Authentic cuisine fills the menu while south of the border sounds fill the air. Margaritas and Mexican beers are lifted with light hearted spirit while friends converse easily over chips and salsa. Read rave reviews from TripAdvisor here.
Those with rumbling tummies follow head on over to Brandon property restaurants. Whatever the mood calls for there's a local kitchen cooking it up. Come on in and ask what's for dinner.